Will my patients be able to use the Therapy themselves; I am concerned about ease of use and compliance?
Yes, most patients do not need assistance to use TWO2 therapy. TWO2 therapy has a few simple set up steps. Before first use, the patient will be instructed by a member of the AOTI Care Team on how to set up and use the TWO2 therapy. Additionally, easy instructions are provided on the screen of the TWO2 Controller to guide the patient step-by-step.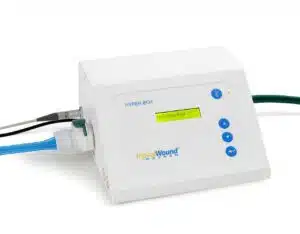 What is the weekly time commitment required for the TWO2 therapy for the Extremity Chamber?
Each Extremity Chamber session is for 90 minutes, 4 or 5 days a week. Patients often complete their session while enjoying other activities such as reading, watching television, or the like.
What is the weekly time commitment required for the TWO2 therapy for the Multi-Patch?
Each Multi-Patch session is for 60 minutes, 7 days a week. Where patients are bedbound, nursing staff typically apply TWO2 therapy as patients are rotated through their repositioning.
How long will my patients be on Therapy?
The duration of the Therapy depends on the severity and complexity of the wound.
Is it painful?
TWO2 therapy is not painful.
When is the best time of day to perform Therapy?
TWO2 therapy can be performed at any time. It is best to perform TWO2 therapy when the Patient can comfortably sit or lay down for the duration of the treatment.
When should I consider using TWO2 therapy?
TWO2 therapy can be used on acute and chronic wounds where it is determined to be clinically necessary or beneficial.
In today's current Covid-19 environment, how does this impact the use of the TWO2 therapy?
TWO2 therapy is well suited for these challenging times because it allows patients to conduct the therapy safely at home, lessening the chances of wound deterioration and keeping infections at bay. Additionally, the AOTI care team is available to visit the home, and using a HIPAA compliant program, take wound images when requested by the Healthcare Provider to help facilitate the treatment plan.
Wound Types and Management
On what types of wounds can TWO2 therapy be used?
TWO2 therapy is cleared for use for treating chronic and acute wounds.
Do I need to treat the wound bed in any special manner before using the TWO2 therapy?
Using TWO2 therapy does not change what you do as part of standard of care for wound bed preparation, which includes debridement of devitalized and necrotic tissue, moisture and infection management.
Are there any contra-indications for TWO2 therapy?
TWO2 should not be used in the presence of acute thrombophlebitis, or Deep Vein Thrombosis.
I often see patients that have wounds that are infected; can I still use the TWO2 therapy?
Yes, TWO2 therapy can be used in the presence of infection. The infection should be concomitantly managed as instructed by the treating prescriber.
Can I use the TWO2 therapy with a wound with osteomyelitis (OM)?
Yes, TWO2 therapy can be used in combination with appropriate osteomyelitis treatments as instructed by the treating prescriber.
Can I use TWO2 therapy along with other treatment modalities?
Yes, TWO2 therapy can be used alongside other products, including other advanced therapies such as biologics, growth factors, and skin grafts. TWO2 therapy can also be used with gas permeable dressings, conventional compression dressings (CCD), UNNA boots and Total Contact Casts (TCC). Occlusive dressing that are not gas permeable, such as those containing petroleum should not be used with the TWO2 therapy.
Are there any dressing that are particularly recommended for use with the TWO2 therapy?
Any gas permeable as instructed by the treating prescriber.
Can I use TWO2 therapy concurrently with NPWT?
The therapies are not compatible for use at the same time but may be used sequentially.
Can Patients use TWO2 therapy where there is poor arterial circulation?
TWO2 therapy can be used with Patients who have poor circulation. The compression used in TWO2 therapy is cyclical and is not held constant, so therefore does not reduce distal perfusion.
Does the Patient need to remove dressings before treatment?
Gas permeable dressings are compatible with TWO2 therapy and may be left in place.
Is TWO2 therapy only used at home?
TWO2 therapy may be used in any healthcare setting, including; hospitals, outpatient, as well as, Skilled Nursing Facilities and nursing homes, etc.
Are there any side effects associated with the TWO2 therapy?
There are no known side-effects.
What makes TWO2 therapy different from full body Hyperbaric Oxygen Therapy (HBOT)?
HBOT is the systemic delivery of oxygen though the body by blood vessels that need to be intact for oxygen to reach and help close to the wound. TWO2 therapy is a multimodality that delivers oxygen directly to the wound site and does not rely on good blood circulation. TWO2 therapy provides a higher pressure topical oxygen delivery (pO2 ≈800mmhg) which results in superior tissue oxygenation. This effective delivery of oxygen is combined with cyclical non-contact compression and humidification. TWO2 therapy is convenient for use in settings easily accessible for the patient, is less expensive, and does not have the practical limitations and a number of relative contraindications associated with HBOT.
Is this a new therapy?
Over 20,000 patients have been treated with TWO2 therapy. Two million TWO2 treatments have been applied by the patients at home.
What clinical evidence do you have to support the use of TWO2 therapy? Has TWO2 therapy been tested on humans?
TWO2 therapy is supported by a large number of studies, which are available for review in the Clinical Evidence section of the website. Research results from studies in humans have been published in leading Scientific journals, such as Diabetes Care, Advances in Wound Care, Ostomy and Wound Management (OWM), Vascular and Endovascular Surgery, and International Wound Journal.
Where can I get additional information?
I understand you have a device that promotes Telehealth; can you tell me more?
TWO2 therapy is supported by AOTI's telehealth platform called
Eyes on the Wound™
. It is a suite of products designed to help you maintain continuity-of-care for Patents at home:
Provide wound images & reports to monitor a patient's progress
Allow for effective patient triage and resource allocation
Simplify patient integration, training and enhances treatment compliance, and
Is scalable for future disease state management coordination
Where is the TWO2 therapy reimbursed?
TWO2 therapy is currently reimbursed through a nationwide Federal Supply Schedule contract that includes the Veterans Administration (VA), the Community Care program, the Indian Health Service (IHS), and many other federal and state entities. TWO2 therapy is also covered by Medicaid in the state of New York. We are currently working on securing broader reimbursement.
I'm interested, but not sure how to get started?
One of benefits in working with AOTI is the level of support we offer to healthcare providers and patients. We are happy to assist you with the administrative and billing process. Please give us a call at 866.HEAL.TWO and we will have someone reach out to you.